Topic: Bonds folding knife in SPECTRE [Spoilers]
I thought I would kick off another hunt for a blink and you'll miss it knife.
In the film I noticed, second time around, that M has placed a black knife on the table next to the tan J Crew Abingdon weekender bag. You see it for a slip second and, if I recall properly, Bond places it away but you don't get to see it.
My first impression was that it was a modern, straight and squared off, matt black folder or auto, circa 4-5 inches folded. G10 handles and matt black blade.
He later gets it out to free Madeleine and all I could see in the cinema was him whip the knife out and quickly and smoothly open it with his thumb swipe action which tells me, as a long term knife owner, carrier and user, that it was an assisted opening or spring assisted knife such as a Spyderco tenacious / Military or an Emerson CQC7 or something, you don't however see the actual knife though its so quick.
There are literally tons of very capable knife manufacturers, it will be interesting to learn by fair means or foul what Bond was equipped with on this occasion.
Please keep an eye out for it and see what you think
Here are two of my similar models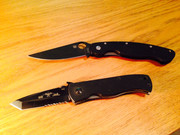 Ironically, Gerber used to make a "Spectre" model thats now out of production but looks similar.