Re: Budget Bond Collectors Resource
Good notice on the heart rate thing canoe2! That really adds a depth to that scene I never noticed. It was also a missed opportunity by the crew to increase the image of Bond as a really in shape dude. Great catch man!
Here is a group of pics from that scene from the BAMF style article that includes the pic drum007 posted: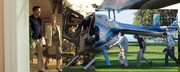 "Whoever she was, I must have scared the living daylights out of her." & "Tell mother I died game."
CR/QoS, TLD, DN, GE, TSWLM, LTK, TND, TWiNE, TMWTGG, TB
http://www.iconicalternatives.com/author/james-brosnan/
https://www.instagram.com/shawn.michael.bongiorno/