Topic: Mystery notes from Fleming and Guy Hamilton
I wonder if any of you might be able to shed some light on a Fleming / Bond related mystery?
A while ago I came across a package of letters at an auction written to a Mrs Sarah Caisley. They are dated from the 60s to 80s. Some of them refer to articles she had written for My Weekly magazine (which according to their web site is a "lively read for today's adventurous mature woman").
The reason I was interested in these is that one note is signed by Ian Fleming and another by Guy Hamilton. Unfortunately neither are dated. The Guy Hamilton message says "thank you for a very flattering article" and a note in pencil says director of James Bond films. The Ian Fleming one says "Get Well Soon" and a pencil note says "creator of 007".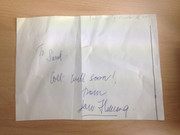 Given the mention of an article I did wonder if Fleming and Hamilton jointly did an interview / contributed to an article. If so it would have to be dated 1964 (Goldfinger was Hamiltons first Bond film and started filming in Jan 64, it was released in Sept 64. Fleming died the month before).
As many of the other letters mention My Weekly magazine I have checked with the magazine but they have checked their archives and there is no article that mentions either Fleming or Hamilton during 1963 or 1964. It seems likely that the article mentioned was either for a different magazine or is from a different date (in which case the Fleming noe may not be connected with the Hamilton one).
I can not find any information about Sarah Caisley on the web so do not even know if she is still alive to ask. As many of the forum members here seem good at finding information about Fleming I wonder if anyone has any ideas or is aware of any published interviews with the two of them?
Thanks
Alan