Topic: Ian Fleming's Cigarette Holder
Hi
I had a though this morning... does anyone know what happened to Ian Fleming's cigarette holder?
It was something that he's using in most of the photo's I've seen of him and as such I think it's quite an iconic item.
I asked Ian's niece Lucy via Twitter and unfortunately she doesn't know of it's whereabouts.
Just wondered if the good people of AJB might be able to shed some light on this mystery.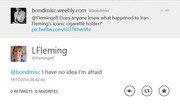 PS:
Didn't realise that I've just found a new country -- IRAN Fleming
"NEVER SAY NO TO ADVENTURES." Ian Fleming
Check Out My New Look 007 Blog
BOND MISCELLANY