Bond's watch in SPECTRE
Alec 006
Sydney, Australia
Posts: 211
MI6 Agent
I know the value of product placement, especially in a film franchise such as Bond. You only have to look at how it has fitted in with the "rebranding" of Aston Martin and Omega. Although Sony's recent decision to leave the Computer/PC making industry will surely leave a Vaio shaped hole in upcoming films; I wonder if Apple are already seeking to fill that.
However, that aside I was thinking about the reception a British-made watch would receive on the forums. Something along the lines of the Bremont range, with most models being made in Henley-on-Thames of all places (yes I realise a few are produced in Switzerland).
Certainly I wouldn't mind one of these myself, and as they are a major supplier to the US military already, how about gracing the wrist of Britain's most celebrated public servant?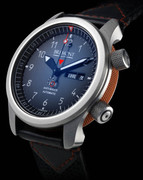 -{ -{ -{ -{ -{ I have still only managed five Vespers in the one sitting…
Always forgive your enemies; nothing annoys them so much.
Oscar Wilde