The 60s James Bond Rivals (1): Matt Helm
Barbel
Scotland
Posts: 30,814
Chief of Staff
Matt Helm
In the fifties, US author Donald Hamilton began writing a series of novels about a tough American agent called Matt Helm. These are grim, serious books with not much humour. Helm considers himself a professional who administers and receives violence as part of his job. Naturally he regularly encounters beautiful females, some innocents caught up in the plot and some working for the other side, and either they seduce him or he seduces them, and equally naturally he meets men as tough as he is, perhaps working for an allied organisation or perhaps working against him.
Apart from what I've said above, which basically applies to most fictional spies/secret agents, there is little or no resemblance to James Bond or Fleming's works. Most of the plots revolve around figuring out who works for who, and feature journeys (usually by car) for large chunks of the normally short page count.
About this time, Cubby Broccoli grew interested in filming the James Bond novels and tried to interest his then partner, Irving Allen. Allen didn't see any potential in Fleming's books and refused. As we all know, Broccoli ended up forming a partnership with Harry Saltzman to film the Bond books and was unbelievably successful.
Smarting from this, Irving Allen bought the rights to Hamilton's Matt Helm novels and set about filming them as a rival to the Bond series. This involved taking the bare bones of a Hamilton plot then throwing in as many beautiful girls, cheesy (even for the time) special effects, faked locations, and Bond rip-off.... er, homages, as the (limited) budget would allow. Good actors such as Karl Malden and Nigel Green were hired as the villains; lovely femmes like Ann-Margret or Elke Sommer would play the female leads.
Much of the Austin Powers character derives from this series- especially his "cover" as a photographer- perhaps more than Powers owes to Bond. And it could be argued that some of the 70s Bond films took inspiration from Helm: some sequences in
Murderers' Row
are similar to some in TSWLM (the Ironhead character presages Jaws both in plot function and specifics).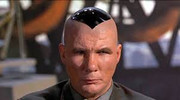 The first three films (
The Silencers, Murderers' Row, The Ambushers
) were produced in quick succession at the height of the spy craze and were very profitable. A fourth (
The Wrecking Crew
) came later, in 1969, and didn't fare as well. The planned fifth (
The Ravagers
) was never made, for reasons explained below.*
A later TV series starring Tony Franciosa transformed Matt Helm into the typical 70s private investigator and bore no resemblance either to the novels or the films.
I've gone this far without mentioning the one name most associated with Matt Helm. To play the lead in his planned rival to Bond, Allen needed an established star who could carry not only a movie but a series. At this point in the mid-60s, the Rat Pack were enormous: No 1 singles, big-budget movies, sold out Las Vegas shows, even in the wake of The Beatles. Allen approached Dean Martin, who agreed to play Helm on condition that he was made a full partner. It's doubtful if the Helm films would have achieved their financial success without Martin so Allen's going for the deal was a wise decision commercially. Donald Hamilton's cynical hero became a boozy crooner, and Matt Helm became Dean Martin playing at being a secret agent. Whether or not one enjoyed the Matt Helm movies became whether or not one enjoyed the Dean Martin persona... and many did.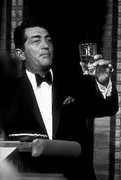 Donald Hamilton did not appreciate what had been done to his novels, and continued to write them into the 90s in the same style he always had. I can't recommend them highly enough- his characters live and breathe, Helm involves the reader as much or more than any other fictional agent, and his plots are (generally) believable if inevitably somewhat dated. Someday, someone will make an accurate film of one of the Matt Helm novels. IMHO, a 40 year old Clint Eastwood would have been the right man for the job... though of course he had Dirty Harry as his equivalent.
*The Ravagers was never made due to a combination of factors. Dean Martin had lost interest; the fourth film hadn't been a big success; and actress Sharon Tate (who had been in The Wrecking Crew and was intended to continue in The Ravagers) was brutally murdered.