Spectre replica jackets,
Vesper007
Enjoying Death,Country England
Posts: 41
MI6 Agent
A quick review of my latest jackets . The originals were too expensive so came across an online seller who has been very good.
I saw a couple of replicas on eBay and like many was a bit worried about what the quality would be like and how the transaction would be.
However - they were excellent - plenty of updates and corres and came from abroad pretty quick at what I think is a reasonable frugal bond price .
The Black solden jacket is a great fit and nice and toasty warm. Mine is dark navy blue - my mistake on ordering but is a very dark blue . It's not got knitted sleeved but has a warm jacket sleeve which is pretty much the same design . Pockets are nice and zips similar .
The Morocco jacket is made of great suede and I asked specifically to get the correct material and try and match the stiching so I sent several pictures. It fits well - not too tight as it nice to have room for a jumper underneath and I don't like things really snug. I sent the measurements - my sleeve are very slightly long but what I sent - back length perfect.
You hear eBay horror stories but these guys wee good and I said I would give them a write up and post some pics - whilst not the originals ( I have the original Menlo and Barbour from sky fall ) these are pretty good and nowhere near the prices .
I paid $109 for the Morocco and $99 for the solden plus postage to the uk, I am ordering the Varvatos jacket replica from them.
They did a good job for me that's all I can say .
It's Leather areena on the web and on eBay talfa-products if you search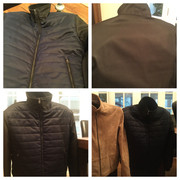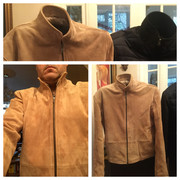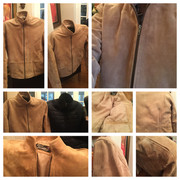 "007 Reporting for Duty"