New Bond Novel (Sorta) by Donald Westlake
Le Samourai
Honolulu, HI
Posts: 573
MI6 Agent
This is fascinating, and I can't wait to read the book.
http://birthmoviesdeath.com/2016/08/31/exclusive-first-look-at-forever-and-a-death-donald-westlakes-lost-james-bon
'The late author's unused plot for Brosnan's 007 has resurfaced - as a novel.... In 1995, before Goldeneye was even released, Westlake turned into Eon two treatments for Bond 18. Both his treatments apparently used as their backdrop Hong Kong's transfer of sovereignty to China.... Now Hard Case Crime has resurrected this lost story, which at some point Westlake rewrote as a novel -
Forever And A Death
.'
It won't actually be a James Bond novel, but should still prove to be interesting and entertaining. And the cover certainly has a 007ish vibe.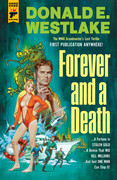 —Le Samourai
A Gent in Training.... A blog about my continuing efforts to be improve myself, be a better person, and lead a good life. It incorporates such far flung topics as fitness, self defense, music, style, food and drink, and personal philosophy.
Agent In Training