AJB Interview with Raymond Benson
Barbel
Scotland
Posts: 30,584
Chief of Staff
Our next interviewee is a man who needs no introduction to fans of the literary James Bond. But that isn't going to stop me.
Raymond Benson took over as the official Bond continuation author in 1997 and went on to write six James Bond novels from that year's
Zero Minus Ten
until 2002's
The Man With The Red Tattoo
as well as three novelizations of the Brosnan movies and, unusually for a continuation author, three short stories.
Prior to this, he was the author of the indispensable
The James Bond Companion
which I have no hesitation in recommending to every Bond fan.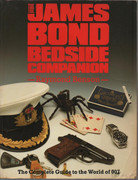 Mr Benson has kindly agreed to answer ten or so questions from AJB members, so here is your chance. I have one or two myself!
Raymond Benson's 007 novels and short stories:
Blast from the Past (short story, 1997)
Zero Minus Ten (1997)
Tomorrow Never Dies (novelization, 1997)
The Facts of Death (1998)
Midsummer Night's Doom (short story, 1999)
Live at Five (short story, 1999)
The World Is Not Enough (novelization, 1999)
High Time to Kill (1999)
DoubleShot (2000)
Never Dream of Dying (2001)
The Man with the Red Tattoo (2002)
Die Another Day (novelization, 2002)
Post edited by SiCo on
Tagged: