Furniture in NTTD
Mattia De Varti
Italy
Posts: 319
MI6 Agent
I didn't know in which thread to post, so started a new one. Feel completely free to close it if there's one already existing.
From a set photo of Q's apartment, I've managed to ID one of the chairs in there. It's the Mart Stamm "Cantilaver" chair with armrests in a natural leather tone. A classic piece of modern design from the Bauhaus movement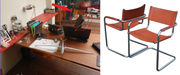 Furthermore, in M's office is possible to note a painting from Paul Nash "Battle of Germany" (1944), which makes sense for a man like Mallory who comes from a military background (as said in Skyfall) and not from a naval one like the previous Ms - except Judi Dench.