NTTD Art-AJack Daniel Craig Episode.
propcollector22
Lake district UK
Posts: 66
MI6 Agent
I thought I'd share this, as I pestered for a month for Jack to do D.C !
Now before anyone writes to Ofcom or complains or gets upset,
It's just for fun, & here are the facts first!
Jack is a part of my Magicians group, who's given stand-up comedy a shot, and got through to the semi-finals of Jason Manford new comedian comp before covid stopped all of these shows.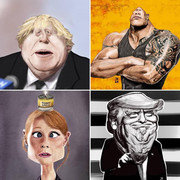 He decided to do these as a bit of fun during lockdown as all shows were cancelled.
Each drawing takes between 10 & 20 hours.
The rock got 12000 views in a week (reddit) along with 3 death threats and someone re-drew his head!
This was planned to be released the same week as No Time To Die was.
He's a huge fan of D.C.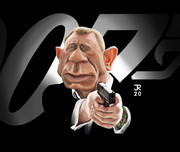 You can find all of the roasts on YouTube or Facebook under Jack Rhodes comedy.
…Enjoy!
https://youtu.be/eChd-3wUeXU
Paul
(no money left now...send food parcels)