ALL TIME HIGH Adventure!
Bond Collectors' Weekends
Gainesville, Florida USA
Posts: 1,671
MI6 Agent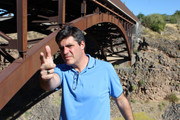 Only the few, the brave, will choose a Bond fan's ALL TIME HIGH ADVENTURE . . . our mind blowing tour of awesome mountains and deserts.
Your ALL TIME HIGH ADVENTURE HOST, Matt Sherman, has led thrilling tours hosting over 100 James Bond actors, authors and filmmakers. Now his ALL TIME HIGH ADVENTURERS will tour some of the world's most exotic and beautiful Bond locations . . .
UTAH: Scout 13 (Yes! 13!) OCTOPUSSY locations on our guided tour. Explore mountains, stunning valleys and Zion National Park's magnificent Overlook Trail. Roam across an abandoned Western ghost town. Hike breathtaking scenery to discover EON's stunt, camera placement and special effects secrets. Stargaze by night under clear, dark skies.
CALIFORNIA: Visit Spectreville and Rhyolite from Ian Fleming's DIAMONDS ARE FOREVER. Trek across Death Valley (as seen in STAR WARS) and the Amargosa Desert. Hike above Dante's View and the rim of spectacular Ubehebe, a gigantic volcanic crater.
NEVADA: Ascend Frenchman Mountain 1,200 feet above The Las Vegas Strip. Saddle up to the bar at VESPER and SKYFALL. Scale Northshore Peak, high over Lake Mead. Tour a dozen Mojave Desert DIAMONDS ARE FOREVER locations by day, and a dozen more glitzy (and spooky) DIAMONDS ARE FOREVER locations by night.
Go ALL TIME HIGH for ADVENTURE this February! Tour guests fly round trip to Las Vegas. Accommodations in LAS VEGAS and UTAH are provided, along with all tours and ground transportation.
* IMPORTANT: Bring Hiking Shoes! Tour guests must be able to walk easy and medium challenge hikes in Utah, Nevada and California.
** This tour is very strictly limited in size, so sign up today! Everyone will want to hear about the incredible tour surprises in store! Come see why you'll want a METAL DETECTOR for this tour!
https://bondfanevents.com/2021-23-bond-fan-events