FS: Sunspel T-Shirts
BlueBlud
Posts: 185
MI6 Agent
I am selling a couple of items below to clear some space and raise some money to continue this wallet unfriendly hobby that we have
)
Sunspel Riviera Grey Melange T-Shirt (Size L) This is brand new with the tags still attached. I was between the L and XL in these T-shirt's and ended up sticking with the XL, I have just left it too long to return to Sunspel. My loss is your gain.
£50 + shipping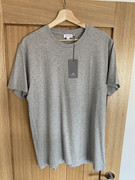 Sunspel Riviera White T-shirt (Size L) The same as above but in white. I have no idea why I removed the tags from this but same as the grey it is new and unworn.
£50 + shipping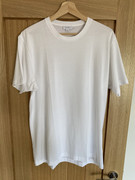 Prada QoS Saffiano Leather Belt (Size 40/100) I don't want to hide anything when selling this item, the condition is not 100%. I purchased this pre-owned and most of the marks and things were already there when I bought. The main things are a mark on the underneath of the buckle (which because it is on the bottom can't be seen when wearing) and the previous owner thought it would be a fantastic idea to put a new hole in himself (This can definitely be made better with a belt hole tool). I have tried to include everything on the images, but if you are unsure please ask
SOLD!