Royale Filmwear Madagascar Shirt Color Correction
BCFDRay
Joppa, Maryland
Posts: 373
MI6 Agent
In keeping with David Zaritsky's frugal Bond, I have a frugal fix for the Royale Filmwear Madagascar shirt. Don't get me wrong, the shirt is fantastic as is, but I wanted the screen accurate color.
First I went through Rit Dye's entire Formula catalog online and picked what I thought was the closest color to the screen accurate color and bought the corresponding dyes. Continuing the frugality of the shirt, I went to AC Moore armed with a coupon.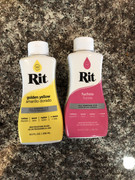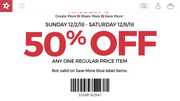 $4 and change later, it was time to experiment., I grabbed a white cotton T-shirt and started playing with time in the solution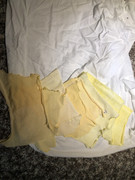 After deciding on the formula and length of time that looked best, I took the plunge and here are the results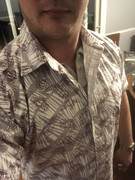 BEFORE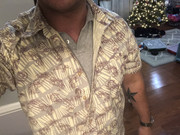 AFTER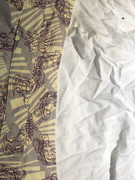 Here's my formula:
4 gallons of Very hot water
1.25 teaspoons of Rit Golden Yellow
1/4 teaspoon of Rit Fuchsia
Mix thoroughly
Add pre-wet shirt and stir constantly
Every so often unball the shirt and put it back in the solution to make sure the dye is applied evenly.
Total time in the solution was 10 minutes
I removed the shirt and ran cold water over it until the water was clear.
I then ran it through a wash cycle with detergent and dried on a very low heat.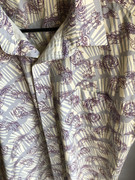 Fun little project and I'm very happy with the results!