Topic: We're interviewing Paul Weston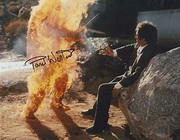 Our next guest is stuntman Paul Weston- more details at https://www.ajb007.co.uk/topic/51924/aj … ul-weston/
Re: We're interviewing Paul Weston
Barbel wrote:
Our next guest is stuntman Paul Weston- more details at https://www.ajb007.co.uk/topic/51924/aj … ul-weston/
Paul was a neighbour when i was growing up. A very nice guy i was a Bond fan as a child soi it was a great link.
Of that of which we cannot speak we must pass over in silence- Ludwig Wittgenstein.