Topic: A Rare 1967 survivor has surfaced! ....Prop Update!
https://www.ajb007.co.uk/topic/50185/a- … -surfaced/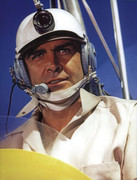 Some were afraid that this iconic piece would vanish into an overseas private collection never to be seen again because the owner feared that either EON or The Wallis Family Estate would attempt to repossess the piece if it were listed for auction in a major auction house catalogue? as did the Donkey. The ridiculous thing is the owner told me knowing what it was he had previously offered it to EON for the Archive completely gratis but received no reply. He then listed it on ebay but the piece received no interest from collectors! After being posted on a well known James Bond collectibles website where our very own Ed of TheSpyboys.com had authenticated it with a screen grab of the serial number on the lense, It had been suggested by potential purchasers that the piece could achieve in excess of £20k at auction which put it out of my price range because my secret bid was just £5k which I later doubled to £10k with an assurance that if my revised bid was successful? it wasn't, the piece would go straight into the Bond In Motion Exhibition in London's Covent Garden to be reunited with Wing Commander Ken "Nellie" Wallis's WA-116 G-AVDG (G-ARZB's stand in) autogyro "Little Nellie", named after music hall entertainer Nellie Wallace (Ken's RAF nickname) by RAF Group Captain Hammish Mahaddie who consulted for EON much as Major General Charlie Russo did on Goldfinger & Thunderball.
After a road traffic accident on 6th February 2018 where my 86 year old Father was knocked out of his disabled scooter by a Vauxhall Zafira breaking his back and giving him a cerebral hemorrhage (brain bleed) he passed away on 14th February after suffering a second larger hemorrhage which put him into a coma on 10th February where when the neuro surgeons said he would never regain consciousness I requested his life support be turned off. Because of a weak heart condition they expected him to pass within a matter of minutes however his heart carried on beating at a steady 117 BPM for a further 4 days!. He left me a small inheritance which when released from probate gave me the funds to either put a high mileage Aston Martin DB9 with DBS body panels on my front drive (Donkey sorely tempted!) or pay an undisclosed amount which would secure Sir Sean Thomas Connery's/John Stears' modified Gentex pilot's helmet from You Only Live Twice for Bond In Motion, The Shuttleworth Collection and posterity.
For one with few brain cells, this truly was a no brainer! The piece would forever be displayed with a mounted black onyx effect face cast of Sir Sean with a discreet engraved brass plaque which stated Wallis WA-116 Agile/G-ARZB Gentex/Stears HGU-7/P "Courtesy of Albert Reynolds, Oct 1931 - Feb 2018" so even though those viewing the helmet would not know who Albert Reynolds was? they would know the name Albert Reynolds which is a fitting tribute to my late Father who felt that only Sean Connery was James Bond! He didn't like Pierce Bronson! (as he called him). To satisfy all parties, that is the seller, EON Productions Ltd, Donk and the Wallis Estate, when the Donkey finally pops his hooves the helmet will be bequeathed back to The Wallis Family from whence it came to be displayed with Wing Commander Wallis's WA-116/G-ARZB Agile, the aircraft he flew standing in for Sean Connery back in 1967 at its now permanent home at The Shuttleworth Collection here in the UK on condition it remains in the UK & never be sold and this is cast in stone in the Donkey's will on file with the family solicitors!
It is interesting to note that when Desmond's "Q" hands the helmet to Sean's "Bond" during the pre-flight brief shot on location in Japan he actually hands him the prop which has the micro cine camera wired to the lense with the lense mounted on its protective dust cap which would be worn in the air by Ken "007" Wallis doubling for Sean. All other scenes with Sean and G-AVDG (standing in for G-ARZB) were shot at Pinewood studios where the more finished Gentex/Stears HGU-7/P was utilised.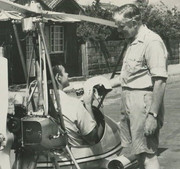 It is also interesting to note that back in 1967 while the movie was being screened at The Odeon Theatre in Leicester square London, Selfridges Department Store in London had a window display featuring a number of screen used props from the movie including Sean's helmet (camera not wired on) and the SPECTRE Intruder spacecraft miniature. Neither have been seen since!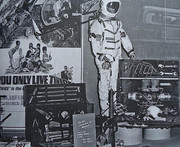 My sincere thanks to Ed of thespyboys.com for putting the Donkey & the seller together & for beyond a shadow of doubt authenticating the piece