Topic: FS: PPK Blueprints 007 Poster
Hey there 007 fans! I've recently made a slew of new posters that feature the classic PPK. It's a blueprint design that comes in a variety of color schemes (7 to be specific
) to go with your home decor!
The colors variants are named for the films I designed the color scheme after. Dr. No is the original, so the blueprints are the classic blue and white. Goldfinger is a striking gold on black poster. If you check out the shop, you can see the latest poster for No Time To Die, which is stark, and very slick in my opinion!
This is for the digital file only, as I wanted to give people maximum flexibility for printing. Metal, canvas, glossy, matte, etc, and also the printers of their choice as people have their favorites! The posters were designed with 24 inches x 36 inches in mind, and can be scaled down based on that ratio.
Anyway, given the recent downturn across the globe, I'm trying to build up some reserves. Utilizing some of my graphics skills, I wanted to make something that every Bond fan can enjoy. Hope you'll at least take a look!
Thank you, and let's PRAY that No Time To Die doesn't get delayed again!!!
https://www.etsy.com/shop/00Adjacent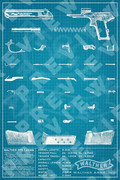 Last edited by 001 (30th Jun 2020 20:31)