Carry On Skyfall
Napoleon Plural
London
Posts: 10,099
MI6 Agent
It had to happen.
Skyfall
is the first Bond film where I started to itch for the return of the Carry On team, they would have made mincemeat of it. I think it was the scene where Silva makes his entrance with a long, boring soliliquay about rats or something. You half expect Bond to say, 'Is this going to take long?'
So, without further ado, who would we cast?
1) Sid James as James Bond
Obvious really, though to be fair I'm not sure that ol' Sid was quite as craggy as Craig.
2) Frankie Howerd as Silva
'Ooh, no, now stop it!' Known for his ratty wig, camp manner and never ending monologues, he's a shoe-in as Bond's flamboyant nemesis. Just as Howerd seemed slightly apart from the Carry On team, so Silva seems to occupy a different movie.
'Ooh, all this running around, I'm quite winded!'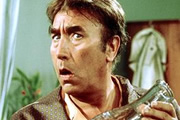 3) Barbara Windsor as Eve Moneypenny
Known for the did they-didn't they supposed off camera affair with Bond, I mean Sid.
"Oooh sir, I'm awfully sorry I shot you!" Turns around, hand over nose, sniggering.
Bond: 'You stupid nit!'
4) Jim Dale as Q
If we had a young Charles Hawtrey, he'd be the man, but instead we're going for the young bumbler on the block. 'Oops, erm, I seem to have uploaded the villain's virus onto the MI6 mainframe, Om am most
terribly
sorry.'
5) Joan Sims as M
"James Boggle, if you think you're taking me all the way to Scotland in that old rust bucket, with that suspension an' all, you can simply turn right round and take me back again!'
And, the venomous:
'Where the hell have
you
been?'
Oh no, hang on, that was actually in the film.
6) Hattie Jacques as Severine
Plenty of scope for jokes like, 'Well, it was easier to hit her than the whisky, let's put it that way...' and 'Maybe I should have made it a double'. Not to mention 'I think we're going to need a bigger shower...'
7) Kenneth Williams as Mallory
The cold fish who turns out to be a decent sort, gets to say to Bond in the next film, 'Ooh, no, stop messing about!'
8) Roy Castle as Silva's henchman
Mainly because no one remembers much about him.
'Elevation's what I need, when I'm falling from a skyscraper, yeah!'
9) Terry Scott as Tanner
Highlight being his puffed up exasperation as M goes on and on and on reciting poetry during the tribunal hearing. 'Good god woman, can't you put a stop to it!'
10) Charles Hawtrey as Kircade
Not a physical match, but excels at the 'Oooh, hello, can't say I've been expecting you...' tack, not to mention the passive aggressive 'Ooh I
am
sorry
, it seems I've sold all your guns' approach. Daft enough to wave a flashlight about on the moors.
"This is where we leave you Mr Bond."

Roger Moore 1927-2017