The Gadget Meister Tribute Prop Only Thread
Gadget Meister
Bicester, Oxon
Posts: 1,972
MI6 Agent
Well it's taken some time to get these together, but it has been quite rewarding and hopefully my photography has improved and I'm teaching myself Photoshop into the bargain. None of the items you will see are stock photos, they have all been collected, or made and the original pictures taken. Over the next week or so I'll post one prop a night. Some you may have seen before, some others may have been done better, but the aim here is to continue what Jeff started and to keep props on the front page for at least a week. Hopefully Jeff's creations and my own humble efforts will encourage others to start producing more props. The prop collection will culminate in what I consider to be the piece des resistance from SPECTRE, and I'm pretty sure that this is the only one other than the actual screen used items. Hopefully you'll stick with it to the end for the big unveil.
However, tonight we will start with a bit of a tease, but very obvious if you know your stuff. Tomorrow I might open the box.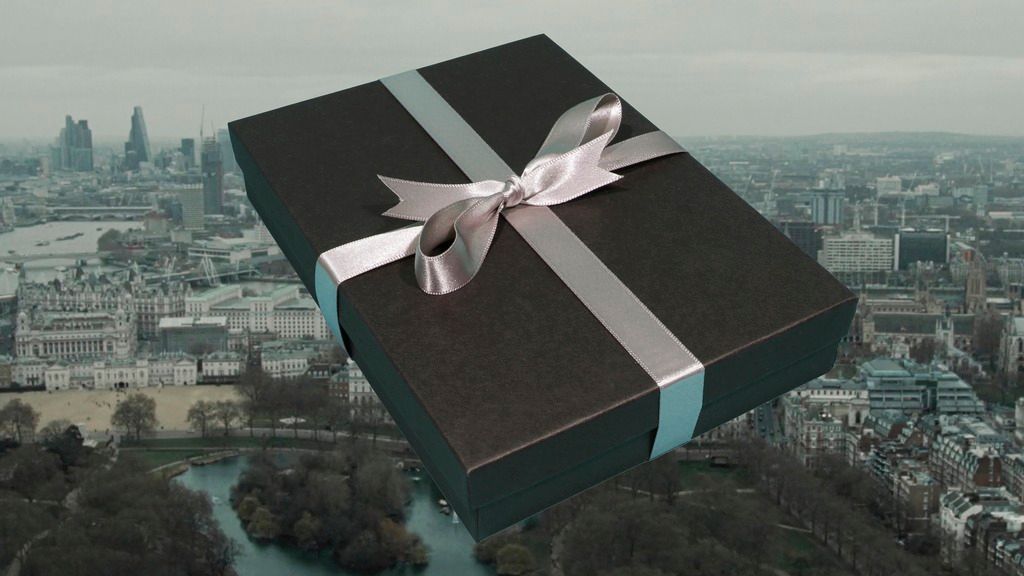 So, time to open the box. What have I learned here? Well I can now strip down a Samsung phone to it's component parts, gently polish out the logo, then reassemble into a working phone. I thought I was going to have resort to using a box that was "near enough" having got the exact dimensions from the delightful Nicolette at Christie's prior to the auction. Then I found the exact box from the Tiny Box Company, their range is fantastic and there is no minimum order. Here it is then ..... The Moneypenny phone from SPECTRE. I hope you enjoy, tomorrow I think I'll unveil an exclusive (well I'm not aware of it being identified elsewhere, unless of course you know different)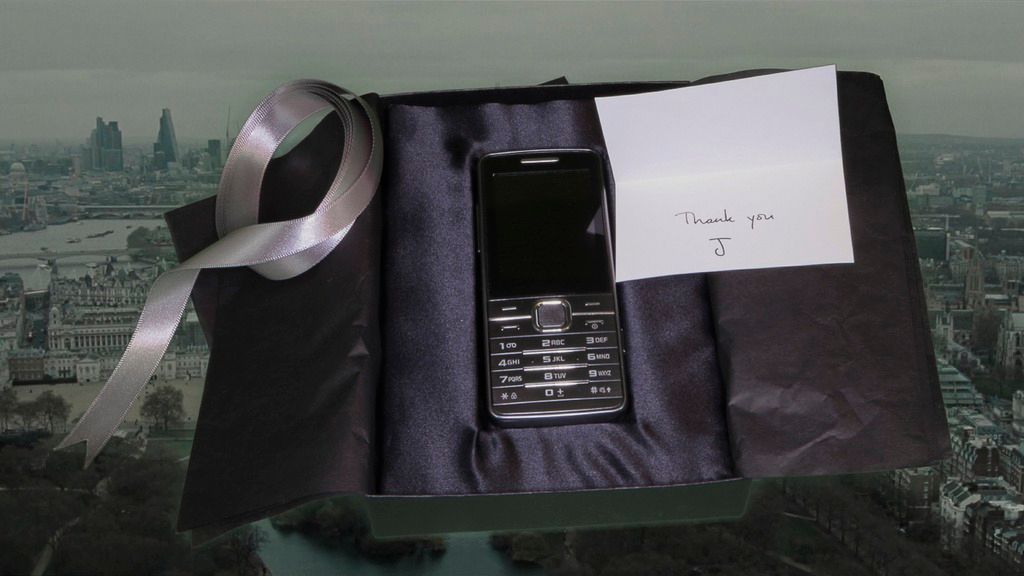 OK tonight's offering is another little goodie from Sony, albeit an unpublicised one. Before Bond meets Madeleine Swann for the first time at the Hoffler Klinic, Dr Swann is seen dictating some medical notes. After a lot of digging I finally identified this as the Sony ICD-SX1000, a now superceded model which I managed to pick up from Czechoslovakia, these are getting fairly rare on the ground and are on the expensive side. Tomorrow we'll go decidedly low tech after this with a nice piece of set dressing.
So here we have a nice piece from the train table dressing. A napkin from the Fine Cotton Company, the company who supplied Eon for the scene, embroidered with the fictitious CAM Logo in dark green. I searched for a similar napkin ring but ended up with a Sterling Silver bangle from Argos which fits the bill perfectly. For tomorrow's offering we'll stay on the train.
Well, as correctly guessed by Ed, next up is a blink and you miss it prop that Bond uses in his train fight with Hinx, the Anvil Ice Pick. This is a nice Japanese piece by Yamachu. It is the 7 1/2 inch model. They can be fairly easily found by Googling around and comes in around $50. One word of warning though the wood colour can come in be a little hit or miss, I was lucky. Tomorrow we'll see what Q branch can find for us.
OK, onward and upward as we start to bring this particular prop fest to it's climax. Here we have Q's Ring Scanner Complete with the licensed ring from EON. The scanner is from the fertile mind of our very own Minigeff who, from a fleeting glimpse on screen, designed and manufactured what you see here complete with external and internal LEDs. I particularly like this piece as it showcases what some of our members here can achieve. Take a bow Jeff. Tomorrow will be the penultimate prop and will take us back to the beginning of the movie.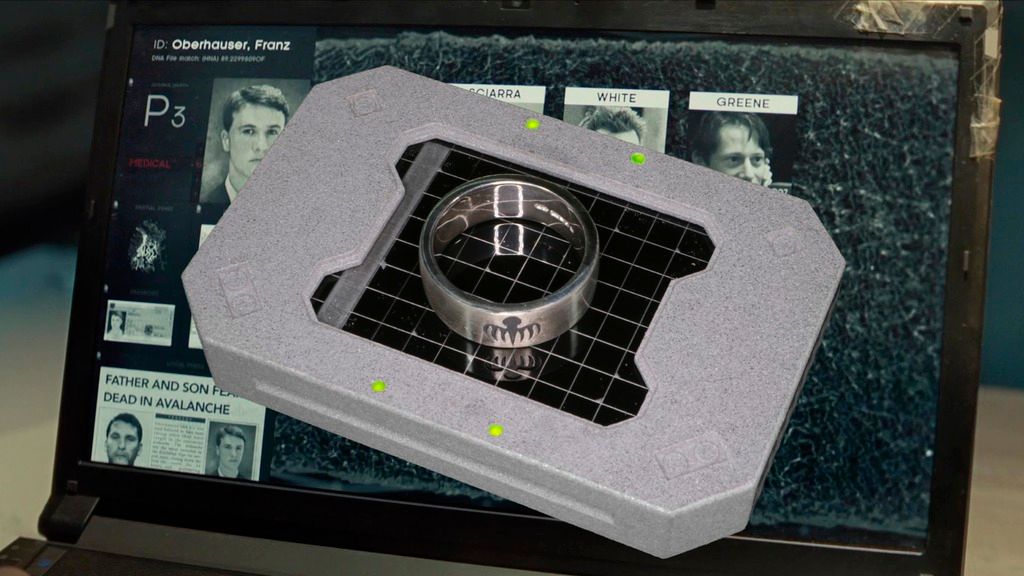 Oops, almost forgot this one. It requires little in the way of explanation other than to say this the latest in a line of Royal Doulton Bulldog Jacks in my collection. Most notable is a full set of the three sizes of originals from the 1940s in mint antique condition ie the glazing is a little crazed through age. Then the increasingly rare RD Skyfall version and finally the 'repaired' SPECTRE version. Tomorrow we travel back to the Day of the Dead.
I know I said no clothes, but i have never considered a hat to be clothing, would you consider Odd Job's square crown coke a hat or a prop? Here we have an original Jaxon & James Victorian Top Hat as worn by DC in the PTS. The skull mask ..... Well I apologise but, to my knowledge, this Chinese effort is the closest available at the present time, there are lots of threats to produce a screen accurate version but as yet it hasn't borne fruit, so if you're into sculpting and you want a challenge then go for it, unless of course the Christie's winner would like to allow his prize to be 3D scanned. Well tomorrow is the finalè and I hope you will be impressed with what I have in store for you.
And so we come to the end of my little journey through the props of SPECTRE, it is by no means a complete nor definitive collection. I'd like to think it's a fair representation, but what I would dearly love to see are more collections gracing these pages so that we can all marvel at each other's treasures, not just from SPECTRE but from all 24 movies. I know when I began collecting/making replica Bond props I took my inspiration from the likes of The Mantis, Ed-209, danjaq_off and many others, a lot of whom have become good friends since then. I'd like to think I can knock out the odd nice piece for others to admire, not all of my efforts warrant a photograph but the enjoyment comes from the creative process, from the research, the endless trawling of FleaBay, the anticipation of waiting for that elusive piece to be delivered, the bringing together of common items to form a complete prop. If you are hesitant to start or don't think your efforts are worthy then take the plunge, put up a photo, ask for advice, we don't all bite .... Well apart from Pete that is. Accept the banter and above all enjoy our little hobby. Let's get more props on these pages.
I did promise at the start of last week that I would save something special for the end so here it is ..... The Glock 17 KPOS PDW with Custom Laser Mic from the PTS of SPECTRE. Within a week of attending the London Premiere I started looking for this in earnest. I was very lucky in that I came across a mint real steel Early Gen 1 KPOS from FAB Defence on GunBroker that was located in Florida. I jumped straight in on it and had a good friend in California complete the purchase for me to pick up on my spring visit to LA. The first thing that needed to be added were the pop up front and rear backup sights from MagPull. The sling was easily put together using 10 mm bungee. A Tokyo Marui Airsoft Glock 17 was to form the base for the pistol but this was then heavily upgraded internally and externally with an accurately trademarked frame and an aluminium slide, again with correct Glock Trademarks, finished with an extended threaded outer barrel. A friend named Banzai put this together for me and it was with a lot of anticipation I fitted the completed Glock into the KPOS, it fitted perfectly. Next the most complex piece of the whole assembly, the Laser Mic. Although similar to the AN/PVS-16 laser designator system, it was markedly different, so much so that a modification would not be possible. So that left starting from scratch. I had been chatting to our resident genius MiniGeff and knew he was looking to dip his toes back in the water after an absence of some time. I thought screw it and just picked him up and threw him into the deep end of the pool. Within a week of the commission's start Jeff had produced 3D drawings purely from screen shots and studio concept drawings with extrapolated measurements. We went through a few weeks of modifications and rough 3D printed test pieces, each of which was a thing of beauty in itself. I should also mention that part of the brief was to have a fully working blue laser fitted. Jeff rose to every challenge and a couple of weeks ago called to say the final piece was ready, I arranged to drive up to pick up the laser mic. Coincidently Jeff lives on the exact spot where I joined the RAF some 40 years ago, so this was also a trip down memory lane. I will let the pictures tell the story of how impressive the completed unit is, needless to say Jeff is def on my Christmas Card list from now on. So we are just left with one piece missing, the suppressor. There was only ever one place to go for this ..... Q-Branch. Although still active, Kev now spends all his spare time racing power boats in the P1 SuperStock series. If you get to see one of the races this season, Kev's mount "Quantum Racing" is number 09. I ran some drawings up and managed to get him out of the boat long enough to complete the suppressor. Anyone who has one of Kev's silencers knows the quality of his work, again the pictures speak for themselves. All I can say in closing is a great many thanks to all involved and enjoy the photos. This is now one of the premier props in my collection. Let's see yours!
Folded Carbine with Sling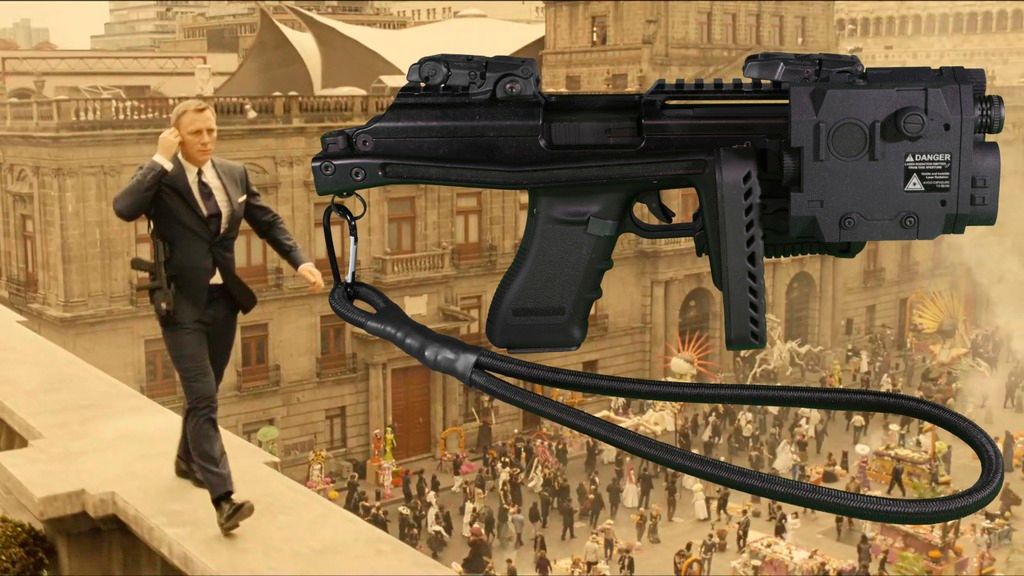 Extended Carbine with Sights deployed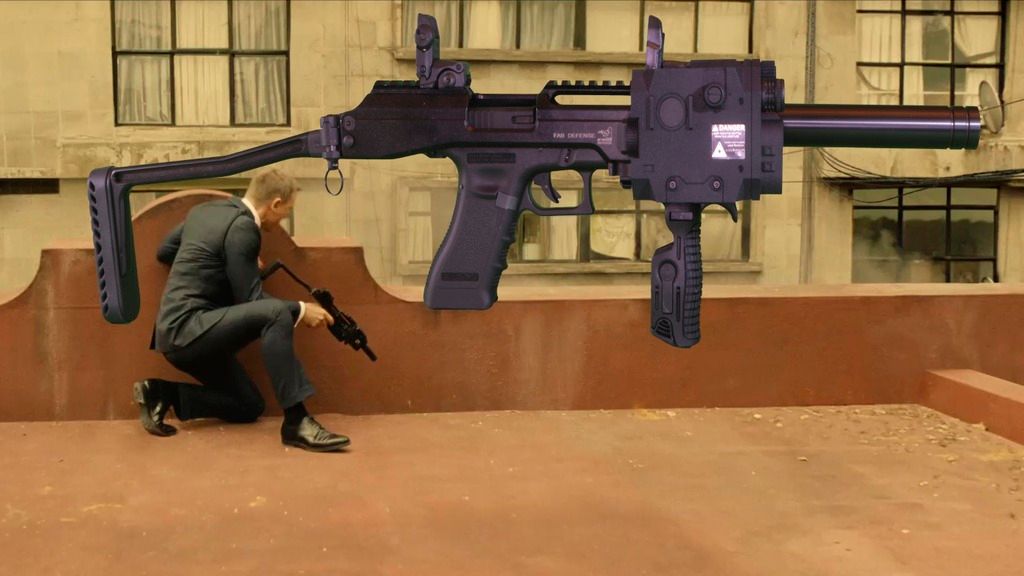 Laser Mic Close up
Please feel free to use any of these photos, my only request is that credit be given.