The Living Daylights "Afghan" Landrover 90 restoration.
ke02eww
US
Posts: 2,064
MI6 Agent
Not so much a prop, more of a labor of love. The recent Thunderballs.org hoard of pictures inspired me to write this thread.
TLD is one of my favorite films, and the Afghan sequence at the end is one of the best bits.
Here is one of the Land Rover Defender 90s used in that sequence.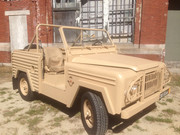 After filming it was stripped and sold back into the market as a conventional defender. It passed through several owners over the years before turning up in Ireland. A dealer noticed Eon's name on the registration record, and eventually I purchased it. It's backstory has been verified with the production company.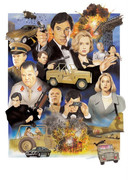 Restoration is a tricky subject, and personally I think there is a very simple line. If the object looks similar to its screen presence, albeit weathered and/or damaged, then it should remain largely untouched, save some preservation.
This vehicle looked nothing like the screen image, and therefore I decided to have her professionally and lovingly restored to her screen look.
This entailed rebuilding the armor plating, removing the canopy and having her re-sprayed the correct color. We also painstakingly researched the exact dimensions of the armor "plates", and the decals and number plates.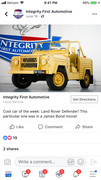 There are still things to be finalized - eg the Arabic lettering on the front and back plates, which are impossible to see on the film. There is an artists impression in the magazine for this particular bond vehicle, show below, but it doesn't look like the screen image to me.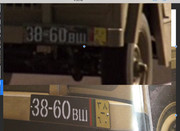 If anyone has good stills of either plate please let me know. Sadly TLD does not attract the hoards of experts and archivists that other films can boast of, so we've been unable to find the correct detailing for the plates.
I hope you consider we've done a fair job in re-instating this vehicle to its former glory as a James Bond Car.
Evidence that there were indeed multiple (we think two or three) defenders used for this purpose, is shown in the pics below. The plating on the rear drivers side is clearly different on these screenshots, and so we had to choose one for our restoration. The black and white pic is shows a different vehicle from the other two shots, so our truck, below, matched the vehicle driven my Maryam D'Abo, top right.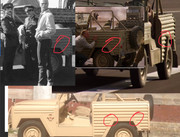 We feel we picked the truck that's seen most, and in particular the one that's driven onto the c130 by Ms D'Abo.
We believe one of the jeeps didn't survive as a result of trying the "drop" scene for real, before settling on the fantastic model solution which appears on the film.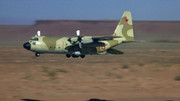 And of course Bond himself drives the truck at the end of the sequence.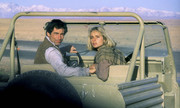 " I know a great restaurant in Karachi - we can just make dinner"