Richard Chopping Cover Designs-the Best of the Best?
SpectreOfDefeat
Posts: 333
MI6 Agent
Which of the classic Chopping cover designs do you think are among the best? Let's start a discussion (unless this thread exists already and I missed it, in which case, mods feel free to step in.) Chopping's trademark wood-grain cover designs for the Bond novels undoubtedly contributed to their lustre and prestige, both on original sale and for collectors. My question is: which are considered to be the most iconic/favourite pieces of Chopping cover art?
Personally, I'd nominate:
From Russia With Love, relatively simple but classic: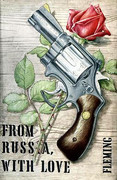 Thunderball, for the striking imagery of the lone skeleton hand, later repurposed for the cover of Icebreaker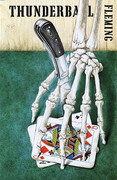 and You Only Live Twice, just for how weird the composition is with the clashing toad and flower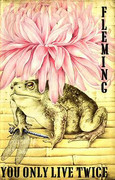 What do others think? What are some more suggestions for best/favourite/most iconic Chopping cover?