Welcome to the New Forum
Welcome everyone, you should be able to login as before, please excuse the design I am working on it! Please see my post on all the updates and ongoing work... "Welcome to the new Forum".
Swaine Adeney Brigg Bond Case - From Russia with Love
Lex Templar
MI6 Agent
Hi everyone,
My Swaine Adeney Brigg 4.5 inch Bond case arrived this week in Australia after 3 months. Something I have always coveted.
I have to say it is quite the piece. The bridle leather is remarkable along with the hand made solid brass hardware.
I have just taken a few quick photos thus far.
I also believe Roger Moore probably had a SAB at the Miramonti Majestic Grand Hotel in FYEO that he throws on the hotel bed.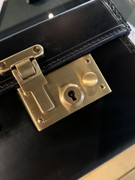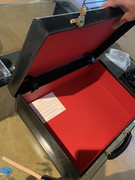 Post edited by Lex Templar on