Burns Night
Charmed & Dangerous
Posts: 7,039
MI6 Agent
Tomorrow is Burns Night, one of the more traditional celebrations in the Scots calendar.
(From Wiki: A Burns supper is a celebration of the life and poetry of the poet Robert Burns, the author of many Scots poems. The suppers are normally held on or near the poet's birthday, 25 January, known as Burns Night.)
My father's ancestral family was Scots (and my mother was named Monica, of which the French version is Monique, but sadly my father's name wasn't Andrew
) so I've decide to cook Burns supper tomorrow night. It's been a while since I last had it.
Haggis, tatties and neeps for the main course, followed by cranachan for dessert, all washed down with a dram of the poet's favourite tipple, of course. :007)
Not sure they'll be serving it at the S&BG, and I can't recall it ever being mentioned by Fleming, but I'm pretty sure that the literary Bond would have tried it in his childhood, along of course with Sean Connery. Will anyone else be joining me?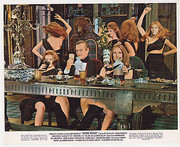 "How was your lamb?" "Skewered. One sympathises."