Quantum of Solace Bond Tom Ford Polo: Update in Post 440
The Bond Experience
Newtown, PA
Posts: 5,490
Quartermasters
Here it is. Just had official word from our man at Tom Ford, and the QoS Polo is a GO.
This is not a close-enough or approximation of the one in the movie but rather an
exact replica
...thread for thread, button by button. It will have the correct shape, the correct hand (feel), and will be offered in standard sizes. There will be a size chart provided in the near future once we see we have enough interest. Here are the details:
The polo will be 505 Euros not including shipping. It will be shipped in a Tom Ford box. I am still waiting on the turn-around time once we have payment from everyone.
OK, gang....here we go. With the prototype soon to be heading to me for evaluation, TF would like ALL interested parties to email Luigi at ldb@tomfordinternational.com. This is just to provide him with your email contact at this point. Once the proto is approved then he will ask for funds. So, for those that raised your hand please email Luigi at ldb@tomfordinternational.com as soon as possible.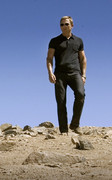 This discussion has been closed.