Bond Cover Version Albums
IanFryer
Posts: 327
MI6 Agent
After a successful day at the charity shops, I thought I'd post details of two Bond-related LPs I bought today.
On the Marble Arch label from 1965, 007 James Bond Thrillers by The Zero Zero Seven Band.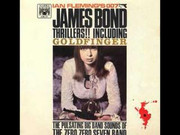 And on Decca from 1967, Hollywood by Mantovani and his Orchestra with covers of Goldfinger and You Only Live Twice. Dig that groovy cover art!