AJB Interview with Yaphet Kotto
Barbel
Scotland
Posts: 33,458
Chief of Staff
The distinguished actor Yaphet Kotto has agreed to answer a few questions from us.
His long career includes
Alien
,
The Running Man
,
Midnight Run
and many more but for James Bond fans he will forever be Dr Kananga and Mr Big in
Live And Let Die
.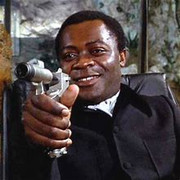 Read The Interview
https://www.ajb007.co.uk/discussion/comment/958653#Comment_958653
This will be a telephone interview so please keep your questions brief. As usual no personal questions please, and Mr Kotto reserves the right to not answer any particular question as he sees fit.
At this point I don't know what time suits him for the call so I'm not putting a time limit on this until I hear back.
Read The Interview
https://www.ajb007.co.uk/discussion/comment/958653#Comment_958653
Tagged: