Bond Book of the Month
Thunderpussy
Behind you !
Posts: 63,792
MI6 Agent
Many have suggested having a Book of the Month Thread, So lets start one.
Starting in July ( To give time to either Buy a copy,or dig out an old one ) with
Casino Royale. Then continuing through the Fleming Novels, and on to the continuing
Novels.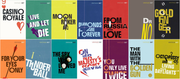 So it's still open for suggestions, advice or tips. Although from July you can post your views on Casino Royale
whether your reading it for the first time or need the excuse to read it again after a few Years.
"I've been informed that there ARE a couple of QAnon supporters who are fairly regular posters in AJB."